Festivals. Golf. Hiking. Mid-century modern houses. A rich and diverse food culture. The list of reasons to visit Palm Springs is virtually endless—and so are the reasons to live here.

If you own Palm Springs real estate, you likely knew this already. In fact, there's a strong chance you might be one of the countless transplants who took the opportunity to buy a home in Palm Springs after a single visit.

There's a good reason why Palm Springs real estate commands such high prices even when much of the rest of Coachella Valley is subject to turbulent highs and lows. It's a seller's market, in every sense of the term. In September 2021, Palm Springs homes for sale came with a median listing of $657,000, a year-over-year increase of 31.7%. As of November 2021, there were only 559 homes listed on the market in a city with less than 50,000 residents.

But the high prices aren't driving away prospective buyers. They're fully aware that owning Palm Springs homes comes with a hefty price tag. The quality of living may be higher, but so are the amenities. That's because Palm Springs isn't a city. It's a way of life. There's nothing quite like waking up to the sunrise splashing on the San Jacinto mountains. And there's nothing like making the most of your investment property to give your Palm Springs home a distinct advantage.


It's not just the real estate market that's hot in Palm Springs
With an average high of 70°F during the month of January, it's easy to think of Palm Springs as a destination for snowbirds. Yet, more people are looking to live here year-round—even in spite of the scorching desert heat during the summer. That's why Palm Springs homes can command such considerably high prices.

"Waterfront property" takes on a different meaning in the desert oasis of Palm Springs. Emphasizing your pool, pond, or fountain when listing your home for sale in Palm Springs doesn't just emphasize the amenities. It's an outright necessity. Include at least two photos (preferably more) of your swimming pool, both close up and at a distance, to ensure viewers have an accurate understanding of the value it adds. Make sure that they are a focal point in each image, using professional cleaning and staging services to add value to your listing.


Exploring rental properties in Palm Springs
While winter may be the peak of tourist season in Palm Springs, there's enough year-round demand for rental properties to make a sizable dent in the local hotel industry. While converting your property into a short-term rental may seem ideal to take advantage of the spikes in rates caused by annual events, Palm Springs real estate owners can sometimes be at a disadvantage. City ordinances expressly prohibit new owners from maintaining more than one vacation rental or home share certificate at any time, leading to long-running controversies over the visibility of services like Airbnb in addition to high-cost transient inventory taxes and the dilemma of managing high turnover rates.

As a result, many owners are transforming their Palm Springs homes into extended seasonal rentals for periods of three months or more, particularly during the off-season. While you may not have the chance to profit from the wildly skyrocketing nightly and rental rates which accompany festival season in Palm Springs, you'll have the advantage of considerably lower turnovers. Most seasonal rental buyers in Palm Springs tend to be more responsible and require low maintenance, but they can also be fairly selective about choosing a home. One strategy that can work to your advantage is to develop a mixed plan of converting your property into both short and long-term rentals, scheduled around peak and off-seasons. A mixed plan doesn't just ensure a consistent cash flow. If managed correctly, it encourages repeat business — a critical factor in stabilizing your property income.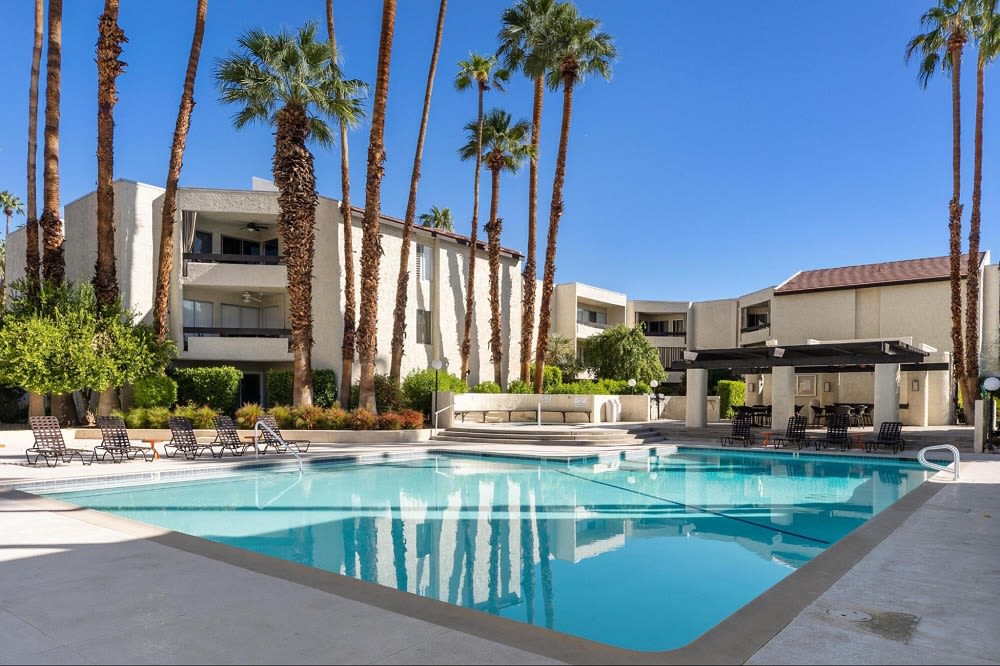 Is now the best time to sell your Palm Springs home?
While the Palm Springs real estate market will likely continue to remain in high demand, the sudden surge of interest it experienced over the past two years may seem entirely unexpected. Many Los Angeles residents take advantage of remote work opportunities to finally move out of an unpredictable housing market and relocate to a much more friendly, less competitive, and accessible environment. One of their first choices was just around the corner in Palm Springs.

Yet, even as workers begin returning to their offices both part-time and full-time, the need for accessibility and a higher quality of life continues to lead many professionals away from the city. With 15-year fixed mortgage rates as low as 2.47% as of early November 2021, you may be asking yourself if now is the best time to sell Palm Springs homes. The honest answer is no—because there is no such thing as a bad time to sell here. Compared to other high-demand locations in Southern California, Palm Springs remains a stable, vibrant, and peaceful oasis in the Coachella Valley. But finding the right buyer on your own relies on your marketing savviness. Homebuyers become much more shrewd in 2021. They're not necessarily going to pay top dollar for a house, no matter how enticing the amenities are. It requires strategy, investment, networking, and more than a little luck. High-income buyers are indeed looking at Palm Springs. In fact, the population has grown nearly 9% in the past few years alone. Finding the right buyer, however, depends on showing them the right home — yours.

There's never a bad time to put up your home for sale in Palm Springs. But finding the right realtor who understands the Palm Springs real estate market is only a click away. Reach out to one of the trusted agents on the Bernal-Smith Group to find out the difference experience and understanding can make in selling your Palm Springs home.