One of the most common architecture themes you'll see in Palm Springs is the sleek and modern mid-century style. Palm Springs actually has the largest concentration of mid-century architecture in the world! During a real estate boom in the mid-20th century, numerous celebrities and wealthy individuals flocked to Palm Springs, attracted by the incredible weather, desert beauty, and privacy away from the hustle and bustle of Los Angeles. Hollywood elite like Elvis Presley, Frank Sinatra, and Marilyn Monroe all resided in mid-century Palm Springs homes at one point! Many of these commissioned homes are still standing today, and visitors can view gorgeous examples of mid-century modern architecture on a self-guided tour.

While this style was revered by celebrities and the wealthy, it was also commonly found in suburban areas throughout the 1960s as more affordable variations were designed by accomplished architects. The mid-century style was truly made accessible to everyone, which may account for its enduring popularity! But what exactly makes a building mid-century modern? Many features characterize this style of architecture. Read on to learn more about the elements of this stunning retro style, one of the hallmarks of Palm Springs.


Clean Lines
Perhaps the most definitive hallmark of the mid-century modern style are clean lines. Homes of this style typically look like what you'd think of when you picture a home of the future — the roof is flat, and there are no gables or other ornamental features. Angles and asymmetrical features are abundant, giving these homes a distinctly unique feel.

Lines are basic and simple, with tall and rectangular windows and doors. This gives the mid-century homes a lovely minimalist feel. Some modern ranch-style homes in Palm Springs feature gabled roofs, but overall, flat roofs and regular geometric lines are the norm.


Indoor & Outdoor Blending
Thanks to Palm Springs' fantastic year-round weather, homeowners can spend as much time outside as they do inside! Most homes in the area are designed to reflect this preference, and this is also likely why the mid-century modern style caught on so rapidly on the West Coast. Many of the architects working in this style also focused on the relationship humans have with nature, and this importance is highlighted in their work.

Sliding glass doors are standard, letting residents catch a glimpse of the stunning desert vistas outside while simultaneously making it easy to move from the inside to the outside. Large windows are very common in mid-century homes, allowing plenty of natural light to flood each room.

There are also typically multiple access points to the backyard, whether these consist of doors in the garage, living room, dining area, kitchen, or even bedrooms. Mid-century homes tend to incorporate nature quite a bit, bringing the aesthetic of the outdoors right into the house itself.


Open Floor Plans
Typically, the mid-century modern homes in Palm Springs feature sprawling open floor plans. This isn't a home with lots of tiny, closed-off rooms. Instead, entryways spill naturally into large living rooms, which connect to the kitchen, and dining rooms aren't rooms as much as wide open spaces.

This desert area offers truly stunning natural beauty, and residents don't want to feel boxed in —  they want to enjoy incredible views! Homes in the area generally feature wide, tall windows or walls of glass, and a home with an open floor plan allows residents to enjoy the awesome view no matter where they're standing. As a bonus, open floor plans are great for entertaining as they create a natural flow through the home, allowing people to mingle, chat, and grab food or drinks in the kitchen. Often, mid-century homes will feature a fireplace or another fixture right in the middle of the space.


Changes in Elevation
Split-level homes were all the range in the mid-20th century, and this is true too of Palm Springs' mid-century modern homes. They are characterized by small steps inside the home that lead from one room to another, like the entryway down into the living room. Different spatial depths are created by partial interior walls and cabinets of various heights.

Designer Donald Wexler was also known for incorporating a half-wall between the entryway and dining area, referred to as a "pony wall."


Steel & Glass Design
Palm Springs homes are designed to withstand the desert heat, which can become quite oppressive in the summer months. Steel is weather resistant and, at the time, was available at quite a low cost, making it an obvious choice for many architects working in Palm Springs.

Some fantastic examples of mid-century Palm Springs homes that incorporate steel are the Dr. Franz Alexander House, built in 1965 to integrate V-shaped steel supports and an open-tread black steel staircase. The Alexander Construction Company Steel Houses are seven homes from 1960 constructed entirely from steel and located along Simms Road, East Molino Road, and North Sunnyview Drive. Originally, architect Donald Wexler planned to build an entire neighborhood of these steel homes, but the material's price skyrocketed as he worked. As a result, only these seven homes were ever constructed; each is considered a historical site today.


Defense Against the Heat
Many of the Palm Springs mid-century modern homes were designed with the stifling summertime heat in mind. Open but covered garages were common, allowing homeowners to park in the shade and keep their vehicle from overheating or being exposed to the elements. Similarly, garage-like rooms were built between the home and the actual garage, referred to as a "breezeway" and serving to separate the living quarters from the car parking area. Breezeways could be used for storage or as a separate and less formal entryway. They served mainly as a way for residents to get to their car without having to walk out into the oppressive heat.

Designers and builders incorporated overhanging roof planes and verandas to offer shade while still allowing homeowners to enjoy the great outdoors; this style grew to be called "desert modernism" over time.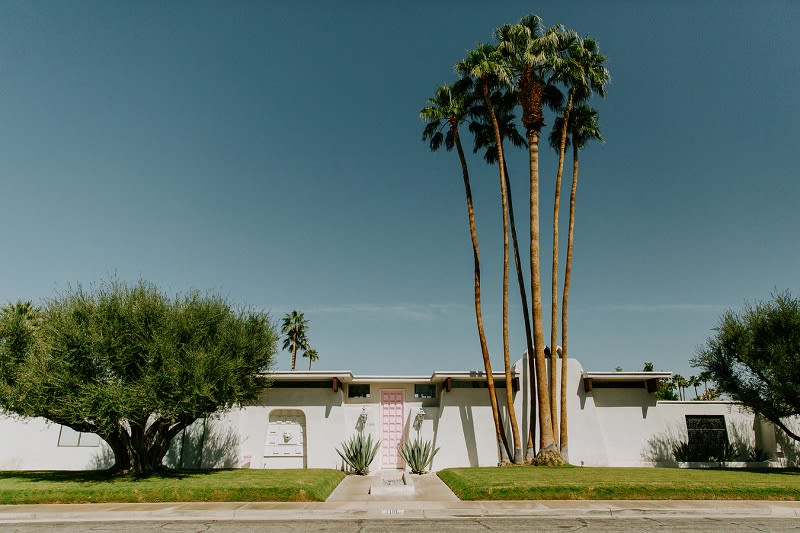 High Functionality
While many mid-century homes appear somewhat simple, they are deliberately designed to prioritize function over form. The floor plans are practical, and it's easy to get from one room to the next; it's hard to get lost in such an open and airy home where you can clearly see where everything is located. These minimalist homes are not built with any extraneous details or wasted space. Every square inch is utilized in some way or another.


Juxtaposition of Different Materials
Many mid-century homes use contrasting materials to great effect. As new construction methods were developed in the 1950s and 1960s, designers and architects were inspired, branching out from what had previously been considered the norm. But they didn't discard traditional materials like wood; instead, these tried and true favorites were showcased alongside interesting and unique choices like vinyl, plywood, metal, glass, Lucite, and Plexiglass. Neutral and bold colors were also quite popular in the design process, as each home was designed to stand out and be eye-catching.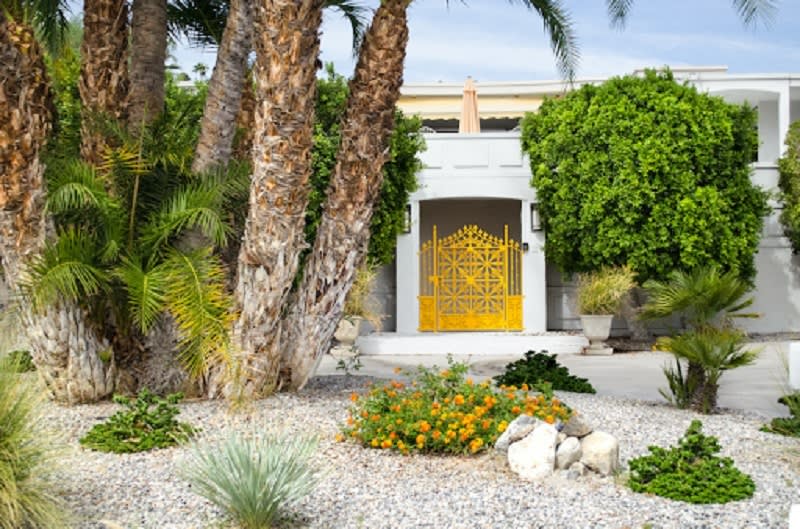 Where Can You View Examples of Mid-Century Architecture in Palm Springs?
If you're looking to see some fantastic examples for yourself, Palm Springs is brimming with gorgeous houses that exemplify the style. Here are some popular homes to view:
◾ Kaufmann House: Designed and built by Richard Neutra in 1946 for department store magnate Edgar J. Kauffmann, who used the space as a five-bedroom vacation home. This structure is typically considered one of the best examples of the desert modernism style.

◾ Twin Palms: Frank Sinatra's iconic estate was this commission designed by E. Stewart Williams in 1947. The flat and sloping roofs are great examples of the style.

◾ Hope Residence: Built in 1979 by John Lautner for famous comedian Bob Hope, this iconic structure features a gaping roof that resembles a crater.

◾ Elrod House: John Lautner is also known for designing the 1968 Elrod House, featured just a few years later in the James Bond movie Diamonds Are Forever. The home is noted for its conical concrete roof over the living room area and its sprawling terrace and pool that offer stunning views of the city down below.

◾ Frey House II: Architect Albert Frey designed this home for himself in 1964 and used it as both a home and studio for years after. This house is a shining example of Palm Springs' mid-century architecture, with elements like a steel structure set upon a concrete podium, an overhanging roof to provide shade, and pristine sliding glass doors allowing easy access to the outdoors.
Browsing Palm Springs luxury homes? Contact the Bernal-Smith Group today! Experienced and knowledgeable real estate agents Lucio Bernal and Jon M. Smith will be happy to help you navigate the Palm Springs real estate market to find the mid-century desert home of your dreams.